Fitness Secrets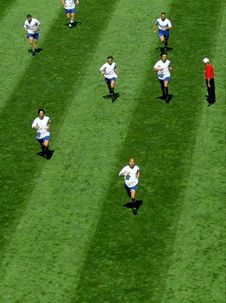 LOOKING for new ways to get fit or to get moving? Is your schedule so busy that you're not sure how you can keep it all together--family, health, career and fitness?
Well, here are some fitness secrets from an Atlanta executive, a mother-to-be in Chicago and from one of the music industry's brightest stars. Each offers tips that could work for you.
Coca-Cola executive Andrea Brown is by no means a fitness buff. But the 32-year-old graduate of Spelman College is smart when it comes to eating and exercise. A senior media consultant for the soft drink giant, Brown says the key to her superb fitness level is healthful eating, with a little bit of cardio thrown in.
"I eat small quantities of healthy foods," says Brown, who is married to screenwriter Jonathan Brown, her college sweetheart (he attended Morehouse College). "I make very purposeful food choices."
Brown says she doesn't "waste" calories on foods that she doesn't really like, such as cheesecake and chocolate. Instead, she focuses on preparing and eating colorful fruits and vegetables, cutting out most fried foods and using healthy seasonings.
Her husband is also very supportive of her eating habits. The two, says Brown, "eat to live, not live to eat."
And Brown also does all she can during the day to keep moving. She uses the stairs to dash from meeting to meeting at work, and she avoids snacking during the day. On weekends, Brown, who doesn't belong to a gym, takes walks through her hilly Marietta, Ga., neighborhood.
And although she says she doesn't walk every day, when she does take the time to get moving, the 20-to 30-minute walk is high-intensity.
"I have a lot of hills in my neighborhood, and that walk is tough," she says.
For proud mother-to-be Denita Thompson-Maclin, a senior media planner at Burrell Communications, a full-service advertising company in Chicago, pregnancy was the key ingredient in her desire to get fit.
The 34-year-old and her husband, Frederick, a housing manager for Christian Community Health Center, are expecting their first child, and she wanted to get in shape in hopes that the pregnancy would be easier.
Her husband encouraged her to sign up for a class at the gym he frequents. Thompson-Maclin started doing aqua aerobics at the Saint James Health and Wellness Institute in Chicago Heights, Ill., a suburb of Chicago. "I was not exercising before I got pregnant," says Thompson-Maclin, a resident of South Holland, Ill. "I thought I might as well try to do something, so I started [aqua aerobics] in my second or third month. The exercise really helps."
Thompson-Maclin, whose baby was scheduled to arrive in September, got the green light from her doctor to do the hour-long, low-impact aerobics once a week at the pool of the 64,000-square-foot facility. The water activities do not strain already stressful joints; water resistance ensures that she doesn't work beyond her capability and the exercises work muscles that are rarely used on land. And she can feel the difference in her fitness level.
"We do jumping jacks and run in the water," Maclin-Thompson says. "There's no way I could do that before."
Maclin-Thompson says the class has also been helpful because of the women she met in the water, those who had children already and those going through pregnancy--like her--for the first time. They were able to share stories and experiences, and go through pregnancy together, which, she says, is great for a first-time mother.
The stars also have fitness secrets to reveal. Often, the ups and downs of their battle to lose weight are played out in prime-time, on the pages of magazines and on stage. Gospel star Vickie Winans lost 75 pounds and gained a new lease on life through a combination of diet and exercise.
Winans told EBONY that she lost the weight slowly, over a period of three years, by following the protein-packed Atkins diet and exercising in the workout room of her multimillion-dollar home in suburban Detroit.
She works out regularly in her custom-designed personal workout room, using several weight machines to strengthen and tone, and a stationary bike and treadmill for cardiovascular exercise.
These fitness secrets may or may not work for you. The only way to know for sure is to get moving. You could be on your way to a happier, healthier you.