Fitness Extra
Plyometric workouts (in which you train your muscles to develop explosive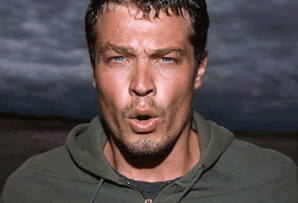 speed) are a great way to build power, but they can also leave you sore. Fortunately, a new Ohio State study says there may be a way to make plyometrics less of a pain. In trials, researchers found that people who performed plyometrics in swimming pools made the same strength gains as people performing the exercises on dry land, but with significantly less muscle pain. In addition to boosting leg and knee strength, plyometric drills, such as jumping on and off an underwater platform, may increase sprinting speed as well.
Most guys don't get enough vitamin C (see page 36 for more). Besides putting you at risk for, of all things, scurvy, there may be another reason to up your C intake: According to a study conducted in Turkey, taking vitamin C may improve your performance in the gym. When researchers gave varying doses of vitamin C to lab animals, they found that animals given higher quantities of C were able to "exercise" longer before reaching exhaustion. Although decades-old research had suggested C doesn't improve workout quality, this study appears to call those findings into question.
Think twice before popping a handful of pills to ease out-of-control muscle pain. According to new data presented by the American Gastroenterological Association, 44% of people take larger doses of over-the-counter pain pills than they should. Besides increasing the likelihood of an overdose, large doses of pain medications can boost the risk of conditions like stomach bleeding and ulcers.
Warm up that deep-sea-fishing boat: A new study published in the Journal of Exercise Physiology suggests yet another reason to make sure you eat more fish. After studying a group of active men in their 20s, University of Missouri researchers found that you burn more of your body's fat reserves while working out if you eat a meal high in omega-3s a few hours beforehand.
Rehab
Scientists at Northeastern University in Boston have developed a new technique that could make physical therapy much more effective for repairing damaged muscles. The technology relies on something called electrorheological fluids--substances that can change from liquid to solid form when exposed to an electric current. The idea? To develop braces that change resistance as a muscle regains its strength. When Michelle Davidson and her 11-year-old son, Tyler, took up geocaching, an increasingly popular high-tech scavenger hunt, they knew they would be hiking through woods and state parks in search of hidden hoards.
What they didn't know was that they would discover a love of shared physical activity, allowing them hours and hours to exercise and bond.
"Geocaching has been a godsend," says Michelle, of O'Fallon, Missouri. "It allows us to get hours of exercise without really thinking about it because we're having so much fun."
Michelle is fortunate--she's found a way to combine exercise and quality time together in a best-of-both-worlds approach that motivates her family to get off the couch. With childhood and adult obesity both on the rise, many parents feel the need to do something. But beyond the boundaries of organized sports, coming up with ways for the whole family to exercise together can be a challenge.
"The sports and activities that you choose to do together have to be enjoyable for everyone," says Dr. David L. Marshall, medical director of sports medicine for Children's Healthcare, a healthcare provider in Atlanta. "Just a half hour of exercising per day will make all the difference in the world. But, let's face it, if it's not fun, we won't do it."
We talked to leading fitness experts and came up with a list of great family activities that will get you in shape without sacrificing quality time.
FAIR WEATHER FUN
Be a scavenger. As the Davidsons have learned, geocaching (pronounced "geo" as in geography and "cashing" as in cashing a check) has many benefits. You need two things to get started: a global positioning system, or GPS, and access to the Internet. The $100 Geko 101 by Garmin is a great entry-level GPS system. Find it at Wal-Mart or at many stores that supply outdoor equipment.
Here's how it works. Caches--made up of little trinkets such as pins, pocketknives, and Star Wars figures--are put in a weatherproof box by other unseen geocachers. The boxes are then hidden in places ranging from city parks to national forests.
The coordinates of the hidden cache are listed on various Internet sites. Using your GPS as your navigator, you hike your way to the treasure. When you find it, you take a "treasure" and leave something you've brought in its place.
The geocaches carry difficulty ratings from 1 to 5. "A 'one' can be a simple 20- or 30-minute hike, while a 'five' is something difficult, where you'll need rappelling equipment or a canoe or kayak," said Davidson, who has taken her husband, Chris, and her two younger sons, 6-year-old Gavin and 5-year-old C.J., on numerous geocaches.
To find out more, and to see what caches are in your area, go to www.geocaching.com. Tennis anyone? Grab a tennis racket to get a quality workout, says Jyl Steinback, a lifestyle trainer from Scottsdale, Arizona. Tennis is a great family game because you can play with two or four people and there's lots of downtime for
chat
and chortles.
Want to throw in some real laughs? Have everyone play with their nondominant hand. If you're right-handed, hold the racket with your left. Using a nondominant hand is also a good way of evening out abilities if you're a near-pro but your child isn't an experienced player. Make gardening more kid-friendly. Let's face it, no kid on earth looks forward to pulling weeds. But don't rule it out as potential family exercise time. "Gardening is a great form of exercise for adults and their children to do together," says Joe Sherinski, a master gardener from Cape Girardeau, Missouri. "The key is to make gardening a fun activity, not a chore."
To do that, Sherinski recommends planting theme gardens, such as:
* A pizza garden. Create a circle-shaped garden and use string to separate the bed into pizza-shaped slices. In each slice, plant a pizza topping, such as tomatoes, peppers, and onions.
* A zoo garden. Plant all things with animal names (tiger lilies, leopard's bane, elephant's-ear, etc.).
* A tea party garden. Plant tea-making herbs, such as chamomile, peppermint, spearmint, and lemongrass. Plan on having a tea party, complete with kids and dolls, when the plants are ready.
Spend an afternoon at a farm. Visit farms where you can pick your own strawberries, apples, and other fruits and vegetables. "You'll get plenty of exercise at a pick-your-own fruit farm," says Sherinski. "Plus, you'll have a whole day of quality family time and you'll leave with baskets full of healthy snacks."
You can do this for much of the year, ranging from strawberries in the spring (in some regions) to pumpkins in the fall.
Expose them to the classics. Introduce younger children to your childhood favorites--such as Mother May I?, Freeze Tag, Kick the Can, Break the Gates (also known as Red Rover), and Hopscotch. Your children will have a blast seeing what you did way back in the day and you'll have the perfect excuse to act like a kid again, says Randal Claytor, an exercise physiologist at Cincinnati Children's Hospital Medical Center.